Hi Bay Low Bay LED Retrofit Lighting in Tampa, Sarasota, Bradenton, and Orlando!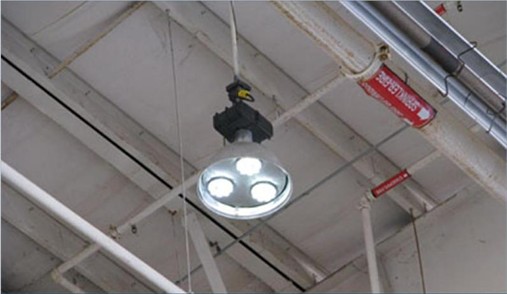 If You Need to Purchase a New Fixture…
Ours Fits Right Inside!
Neu-Tech LED fixtures win in life rating, wattage savings, payback, CRI, and the ability to retrofit versus every competitor.
Here are two things that cause LED's to have a shorter life are:
Heat

Sharing Voltage or Current
We have expert installation! Our LED lights and installation methods are the BEST because we supply constant voltage to each LED and manage the power to run at it's sweet spot. This allows the LED to have the best thermal management possible.
Our LED lights have a 100,000 PLUS hour life rating, before any degradation! Our LED lights also have a cooling magnetic levitation fan attached for more thermal efficiency. When a LED light is properly cooled, it's lifespan improves significantly.
Our competitors are wasting your money… Many competitors in the LED industry are degrading their LED lights at 50,000 hours because of poor thermal management and sharing of current. We have the expert ability to retrofit into almost any HID fixture from 70Watts to 1000 Watts.
Support your economy and put Americans back to work! The best part is that our products are American Made which allows us all to support our economy! Business owners love that! 
LED Retrofit High Bay/Low Bay Specifications
100,000 Plus Hrs.

Power Consumption: 30W-300W

Lumen Output: 2000-7000K

Lumens Per Watt: 71-72

Light Source: LED Phillips

Color Temperatures: White

Color Rendering Index (CRI): Daylight 80
SmartDriver Technology
Select 4 different wattages from one fixture 80, 90, 100  and 134 Watt

Soft start technology extends life.

Micro Processor controls current to LED's. + to – 3% *Over & under voltage and overheating protection. *Safety Mode tells you when something is wrong.

Energy Savings Mode included to reduce LED wattage 50%

Plug and Play design with simple installation retrofits.

UL Listed 120,208,240,277 and 408 single phase inverter incl. *LED operates normally in temp. from -40C to 45C.

Operating temperatures of LED at 25C.

UL Class 2 Power Class A sound rating Efficacy greater than <90% Power Supply operates between -40C and 50C. 24V Operation
Call us today for a free quote or fill out the form at the top of this website! Tampa & Orlando (813) 817-9276 or Sarasota & Bradenton at (941) 773-0809.