"

LED Parking Lot Lights

are Brighter than normal lamps and they will use less energy! They

will save you money!

"
Read below to learn more details about why businesses across Florida are upgrading to LED Parking Lot Lighting!
Why are LED lights so much brighter and use less energy, compared to regular parking lot lights? LED lights work on a Scotopic light scale of 5000-6000K. Standard Lights are on photopic light scale. This perceived brightness can nearly double the light perceived by the human eye. In most cases we can multiply the lumen output by 1.84 to get the true light your eye will see from our LED. This is why in most cases we can replace a 400W light with 100W light and "see" the same light at the work or roadway surfaces.
Let's get scientific for a moment… Industry standard lighting measurements and comparisons are typically performed using photopic lumens to identify the amount of light emitted by a fixture. This measurement has come under fire in recent years as photopic lumens do not properly represent how the human eye perceives light. Scotopic performance, a complete measure of how the eye perceives light, is a more accurate measure.
The retina is a light sensitive membrane in the back of the human eye. It contains two types of light receptors known as cones and rods with rods densely packed at the center of the retina. It was widely accepted that the cones in the cornea where responsible for day vision while rods were responsible for night vision. Thus the lighting industry has long measured light performance by examining the eye's sensitivity to cone activated vision.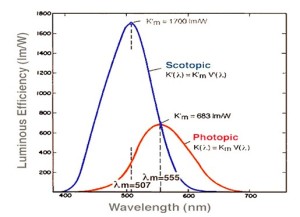 In the past two decades, work by Dr. Sam Berman and Dr. Don Jewett, sponsored by the US Department of Energy, have demonstrated that cones AND rods are collectively responsible for light perception depending upon the lighting conditions. Our PERCEPTION of lighting is not consistent with the devices that we have long used to measure lighting output. Scotopic lumen output (a multiplier of standard photopic lumen output) must be used to properly compare lights.
A standard HPS 400 HID, consuming 460 watts of electricity, produces 32,000 photopic lumens. It is, by conventional measurement, a very powerful light. However, the light quality produced by this fixture is poor, yellow to orange in color, as it emits light in the lower temperature range. As a result, the scotopic measurement, what the human eye perceives, is only 19,840 lumens. The LED 150W Module, consuming 152 watts of electricity, produces only 12,000 photopic lumens. On a lumens/watt comparison, it is deemed to be of the same efficiency as the HID light. However, the LED 150W Module produces a much wider spectrum white light in the 6,000-6,500 degree range, close to natural daylight. The scotopic measurement, human perception, puts this light in excess of 23,000 lumens.
The result is that the LED, consuming 61% less energy, actually outputs 18% MORE light than its HID counterpart. This concept is critical to understand in order to properly select LED's for replacement of existing or planned lighting.
Call us today for a free quote or fill out the form at the top of this website! Tampa, Bradenton, Sarasota, & Orlando (813) 817-9276.